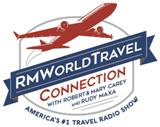 Dr Novick recently was interviewed by RMWorld Travel, America's #1 Travel Radio Show. RMWorld Travel reaches well over 1 million upscale leisure and business travelers via 375+ affiliated weekly radio stations across the USA, as well as our global 24/7 TuneIn.com channel, live streaming, social media, online and more. 
RMWorld Travel says "Since Travel can be more than a  beach vacation or catching a flight to make a business meeting in another city, we invited Dr. Bill Novick to join us during our live broadcast of RMWorldTravel with Robert & Mary Carey and Rudy Maxa, for our "Personal Connection" series on 30 June 2018, to share some of his experiences via his travels to provide meaningful impact on kids, families and communities globally, as well as the opportunities for others to do the same."
Listen to his interview HERE 
You can follow RMWorld Travel on their Facebook page.